William Tell Johnson, one of the sons of Waldo P. Johnson, whose own stately home was destroyed, had this to say, "Not one house would have probably stood, but for the fact that some of their (Lane's) scouts reported the approach of confederate troops. Lane and his men made a hasty exit; however, the report of confederates coming was not true."

Everywhere Lane went, he carries the knife and torch with him and left a track marked with charred ruins and blood. An old man told his story, with composure, he said, "They took my horses, mules, grain, my wife's dresses, and then fired the log shanty that afforded my gray hairs shelter from the pelting rain and nipping frosts." He told this in detail with a firm voice, but when he added, "They even stole the clothes of my little dead grandson."

How do we start over with less than nothing? Most of the physically fit husbands and older sons were somewhere fighting. None were in Osceola to help with the aftermath; no phones, no automobiles, no television or radio, no drug stores or clinics, and Confederate and Union soldiers, with varied opinions about the war, on every side of you. Survival was about the only thing folks were thinking about. How will we confront the days, weeks, and months ahead? Lives were changed and most were never quite the same. What happened in Osceola was a tragedy and never needed to be. Even though many still counted their blessings, there was still bitterness over the years between families too when they had "split" sides or sympathies during and after the war. For many years all of this continued to be "taboo" in many homes to be the subject of dinner-table conversation. It was a Civil War, but there was nothing civil about it.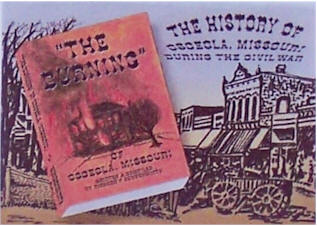 September 22, 1861


Osceola Missouri


Population 2,000-2500
A beautiful late summer day in Osceola, Missouri. A day that will live forever in the eyes and hearts of our citizens.

School was over for the week and children were playing in the yard, a few fishing in the Osage River, and some playing ball at the old ball diamond just over the hill from the town square. The older merchants were closing their stores for the evening, and mothers were fixing super for their families.

Most of the young and middle ages men were away, serving in the Missouri State Guard or a home guard of some type. The Civil War was in progress. Osceola still seemed to be safe haven, and no one could possible imagine what was about to take place within the next few hours. With the children inside and super out of the way, families were settled in for the evening.

Then came Jim Lane's Jayhawkers from Kansas. War was on in Osceola. The courthouse was shelled. Nine men were executed on the town square. Homes and businesses were set afire and within the next two days, the entire town, with exception of a few homes, was totally destroyed. As one brigade correspondent related, "Osceola was a heap of smoldering ruins." After extreme pillaging, Union General Jim Lane left Osceola with all of the plunder and headed for Kansas, leaving old age and helpless innocence to keep vigil over the dead and wounded; blood mixed with tears marked the spot which only a few short hours before had been a town with peaceful, contented, happy homes.
...September 24, 1861
Population 183